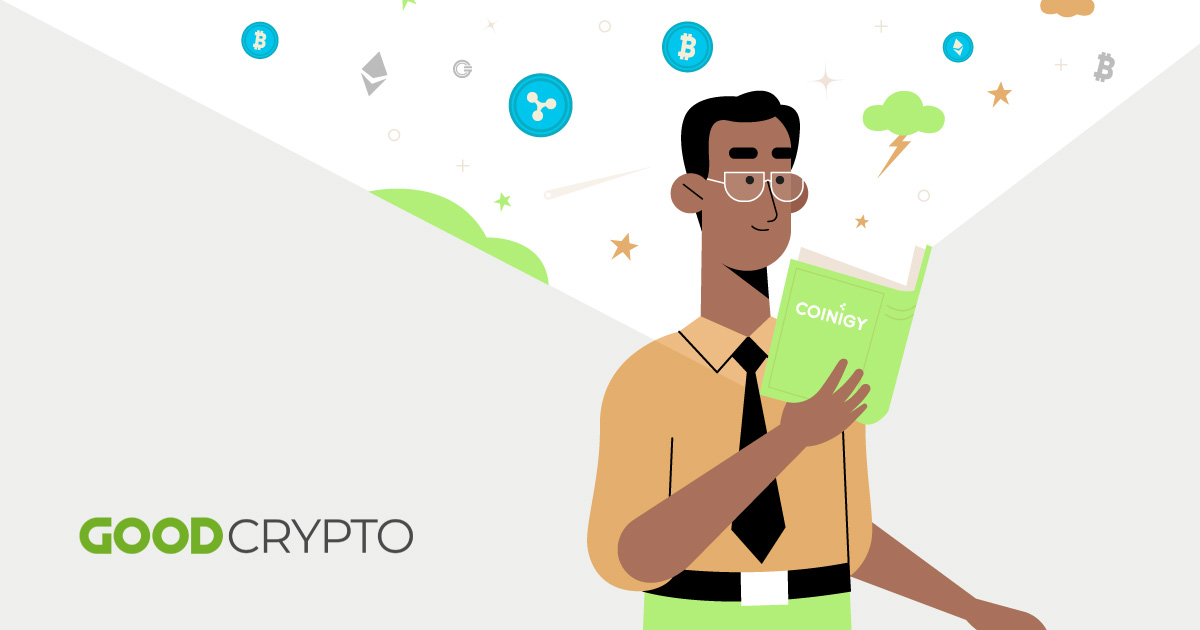 Coinigy Review: A Complete Guide
Intro
In the world of crypto trading and portfolio management apps, there are several top runners worth a shot. Most of such apps have clear strong sides but also blind spots alongside them. They do one thing really well but fail at the others. 
Some, like Cryptohopper and 3commas, focus on trade automation, and are less concerned with manual trading. Others, like Blockfolio and CoinStats, offer great portfolio tracking but have little, if any, trading functionality. 
Some, as you'll learn from this Coinigy review, offer decent multi-exchange trading alongside good enough portfolio tracking, but have a clearly outdated user interface. Others have a great trading (Cryptowatch) or charting (TabTrader) interface but their full functionality is only available on a single platform, and they do not offer portfolio tracking…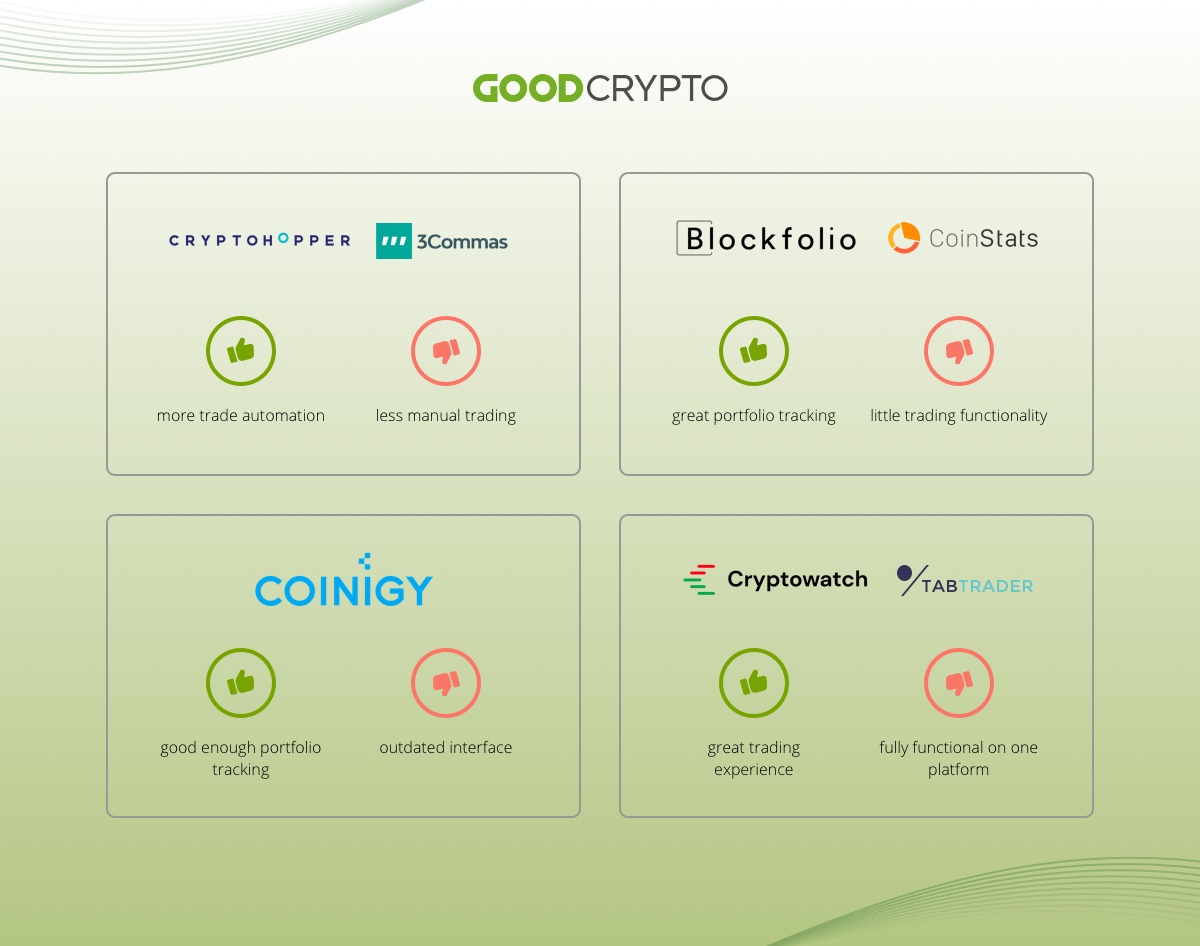 What we, at Good Crypto, believe to be the biggest 'miss' of most multi-exchange trading platforms is that they offer very few trading features on top of what is already available on crypto exchanges. Sometimes it is caused by their apps' suboptimal architecture that allowed them to deliver the initial product fast but limited their future functionality. But often it seems like the development teams simply run out of energy, or ideas, or both, to offer their users what they can't find elsewhere.
Most of the leading apps in this niche started early on and have built a stellar reputation and a large user base. That being said, what felt like a blast in 2017, doesn't track in late 2020 – or does it? 
In this series about crypto multi-exchange trading and portfolio management apps, we'll take a look at the features, pricing, as well as pros and cons of the products you're probably already considering. And the first one in our lineup is the Coinigy review. So, what is Coinigy?  
What is Coinigy? 
Long before the hype of 2017 when Bitcoin roared across the world, programmer Robert Borden and individual investor William Kehl from Milwaukee ganged together to code a trading algorithm that would exploit arbitrage opportunities on different crypto exchanges. 
Back in time – it was 2013 – the difference in price on top of various crypto exchanges could be significant, and a few adventurous go-getters were already doing manual arbitrage trading. However, Borden and Kehl were among the first ones to automate the process. And this, basically, got them terrific traction.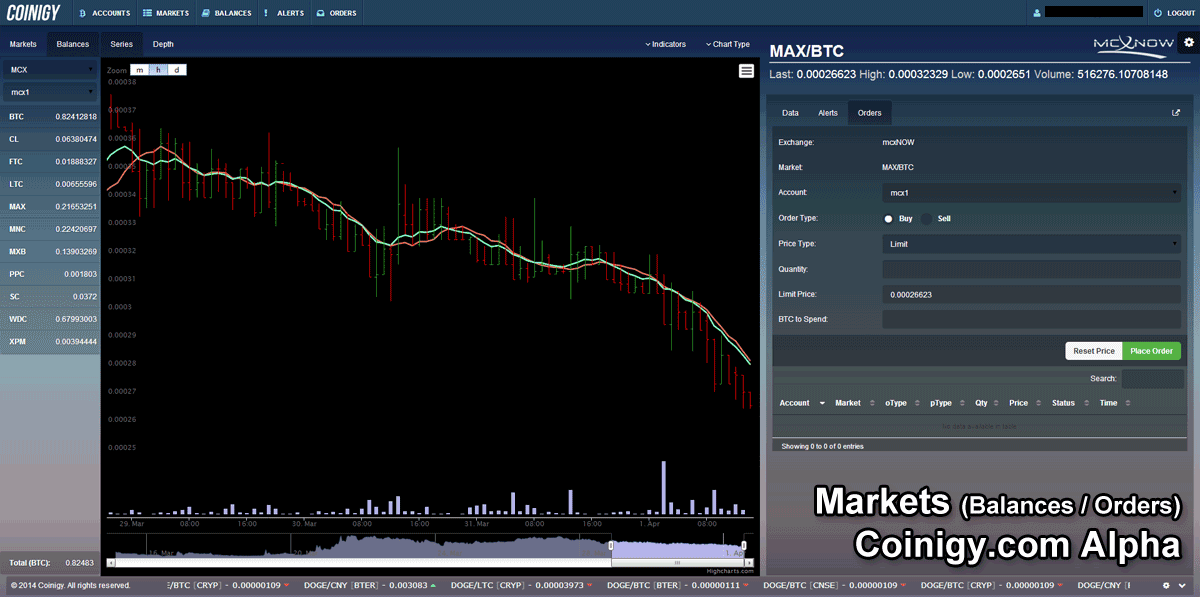 Coinigy, alpha-version, circa 2014. Source: William Kehl, Twitter
In 2015, they created a portfolio tracker and trading terminal called Coinigy where you could manage all of your wallets and trade on certain exchanges. Following their original vision, the product also offered interesting arbitrage tools and crypto news you could utilize for trading purposes. All things considered, it was a breakthrough at that time. And the community was eagerly waiting for more from such a team.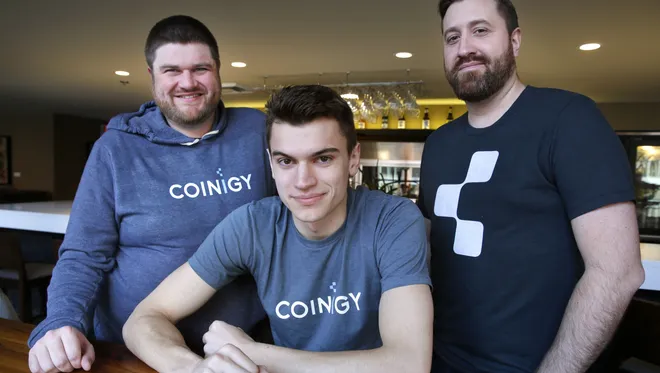 From left to right: Robert Borden, founder of Coinigy, Derek Urban, chief financial officer, William Kehl, founder of Coinigy. Source: Milwaukee Journal Sentinel
However, the time was running, and not much was happening. Finally, in addition to their initial web version, the team has released iOS and Android apps. 
The mobile app is somewhat quirky to navigate and more suited for tracking a crypto portfolio, because there's no trading functionality on iOS, only on Android. The original web version, nevertheless, is still good for trading, charting, and such in-built apps as ArbMatrix, BlockExplorer, ChartScanner, CryptoTicker, GoogleSheets, MarketWatch, NewsWire, and SocialScanner. 
The trading terminal offers limit and stop-limit order types. Stop-limit orders are synthetic, i.e. handled on Coinigy servers, thus available on all exchanges. However, you won't find not only advanced order types such as trailing stop and take-profit/stop-loss but even the basic market and stop-market orders, which is kind of strange for a trading app. Also, there is no trade automation, only visualization of potential arbitrage opportunities that are arguably not realizable via manual trading.
Coinigy monitors 43 exchanges, including Binance, Bitfinex, BitMEX, Gemini, etc, but you can only trade on 11 of them.
Coinigy Key Features
Trading functionality on Coinigy is mostly limited to spot trading, however, they have margin trading available on the Poloniex exchange and Bitfinex. As for futures trading, they have Binance Futures listed on the beta version of the platform (V2) but not fully rolled out yet. However, remember that this all doesn't work with iOS.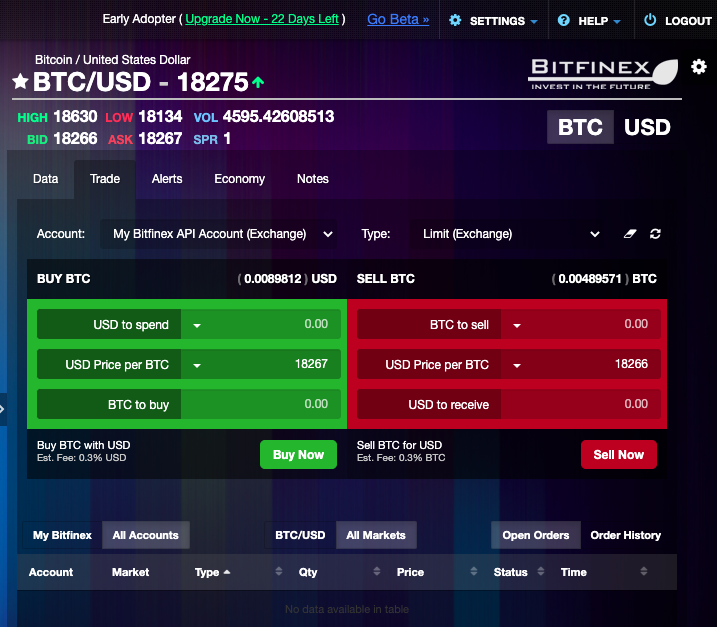 Trading terminal on the web version of Coinigy
You can set order size both in base and quoted currency (i.e., I want to buy 0.025 BTC or I want to spend $500 to buy BTC) which is a nice touch and a highly sought-after feature by many traders.
Placing an order on the exchanges takes seconds. As soon as the order is executed, you may find it under the tab "Orders".
In the Coinigy app, there's a built-in calculator to convert one currency into another, the historical market data feed with trades and bids/asks on all the supported exchanges, an order book, recent trades in real time, a notepad, and an alert for a change in price. However, this alert option doesn't always work in the mobile app.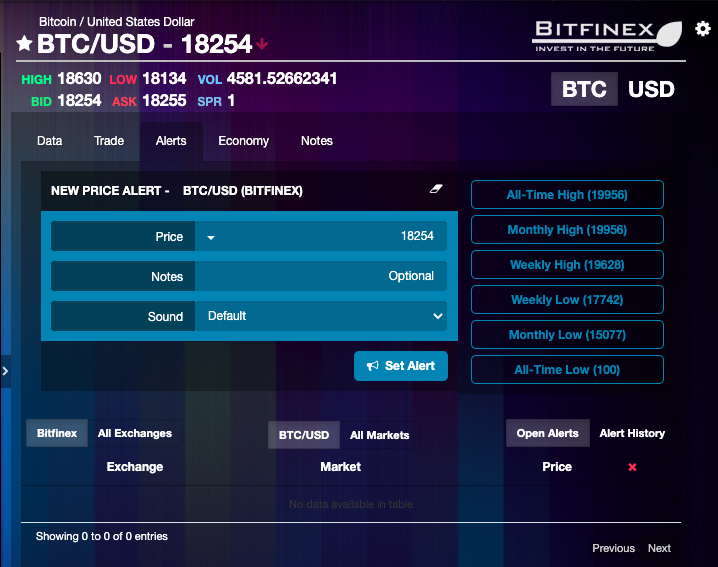 Alerts on the web version of Coinigy
It's possible to enable price and volume alerts in the form of SMS, email messages, and browser notifications. Browser notifications include price alerts in the range from an all-time high, through a weekly low, down to an all-time low. 
The extensive charting functionality is exported from TradingView, including more than 70 technical analysis indicators.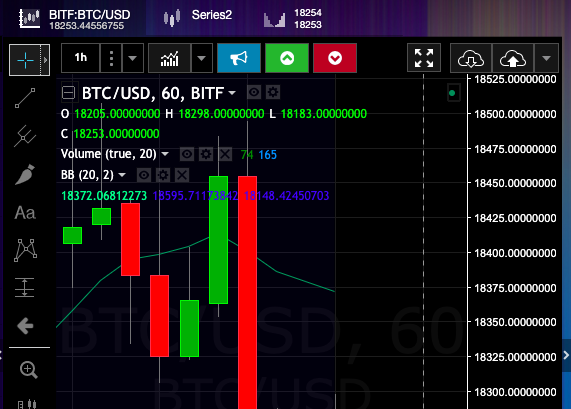 TradingView charting functionality on the web version of Coinigy
With Coinigy, you can trade on top of 11 exchanges: Binance, Bitfinex, Bitstamp, Bittrex, CEX.io, Coinbase Pro, Huobi Pro, Kraken, Kucoin, Poloniex, and Vaultoro.
Stop and stop-limit order types available.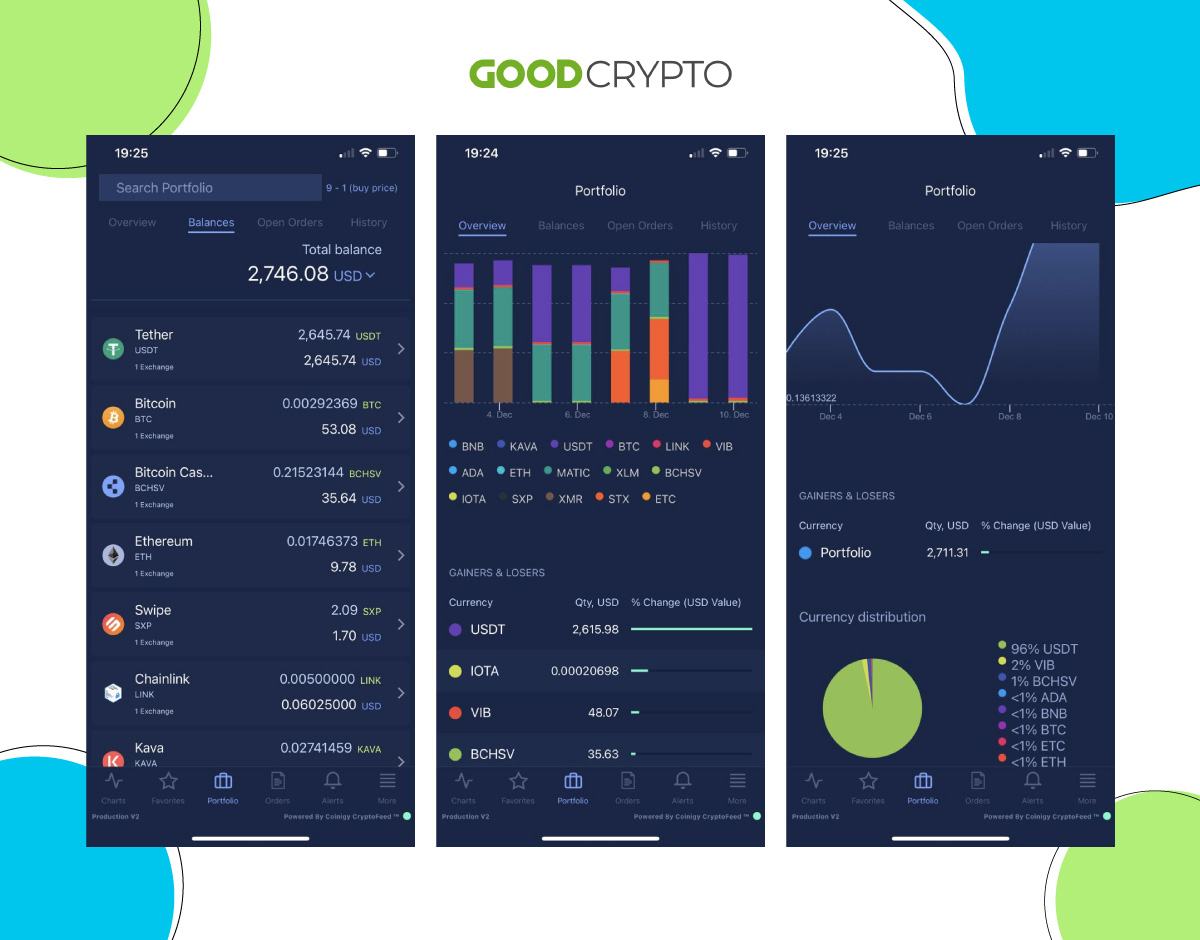 Coinigy's prices and visual tools to track portfolio on the mobile phone
Portfolio monitoring includes currency distribution in a form of a pie chart, total balances, open orders, and orders history. The app not only tracks wallets but also accounts on different exchanges. As for blockchains supported, they cover balance tracking for almost a hundred different blockchains, which is impressive!
The service covers 5000+ coins and monitors 43 exchanges. 
Coinigy Pricing
App Store
According to App Store, the paid subscriptions on Coinigy range from $19.99 per month to $186 per year with a free 30-day trial offered once you subscribe.
When you're logged in
When you get logged in to the web version, you learn that there are many more options. For example, the month-to-month subscription costs $21.95; if you pay quarterly, it will cost you $20.99; the semi-annual plan is $19.77, the price for the annual one is $18.67, and the monthly crypto feed package for developers is $99.99. The good thing is that on Coinigy you can buy Bitcoin with a credit card or PayPal.
Coinigy official page
On the Coinigy website, there are only three subscription types presented: Starter Account or Free Plan, Pro Trader ($18.66), and API Developer Pro ($99.99).  
Free Plan or Starter Account is not quite free, though. What the word 'free' basically means in this context is that you get 30-day trial access to the platform, which should be upgraded to Pro Trader after a month.
Pro Trader Plan that costs $19.99 per month, according to App Store, and $18.66, according to the official website, allows you to add to Coinigy unlimited API accounts, unlimited chart layouts, unlimited trading session length, and stop-limit orders. 
As for the API Developer Pro Plan, it's an enterprise plan for companies that are interested in purchasing data sets with the history of trades on top of certain exchanges, and it costs $99.99.
What lacks in the free version
With the free version, you can trade only with the limit order type only – if it's not iOS. You can't trade on the Coinigy iOS app at all.
Price comparison
To give you a short overview, let's take a look at the pricing of Coinigy competitors. TabTrader's Pro costs $10.99 per month and $109.9 per year. Good Crypto's price for a monthly Pro Plan is $9.99 and only $69 for an annual subscription.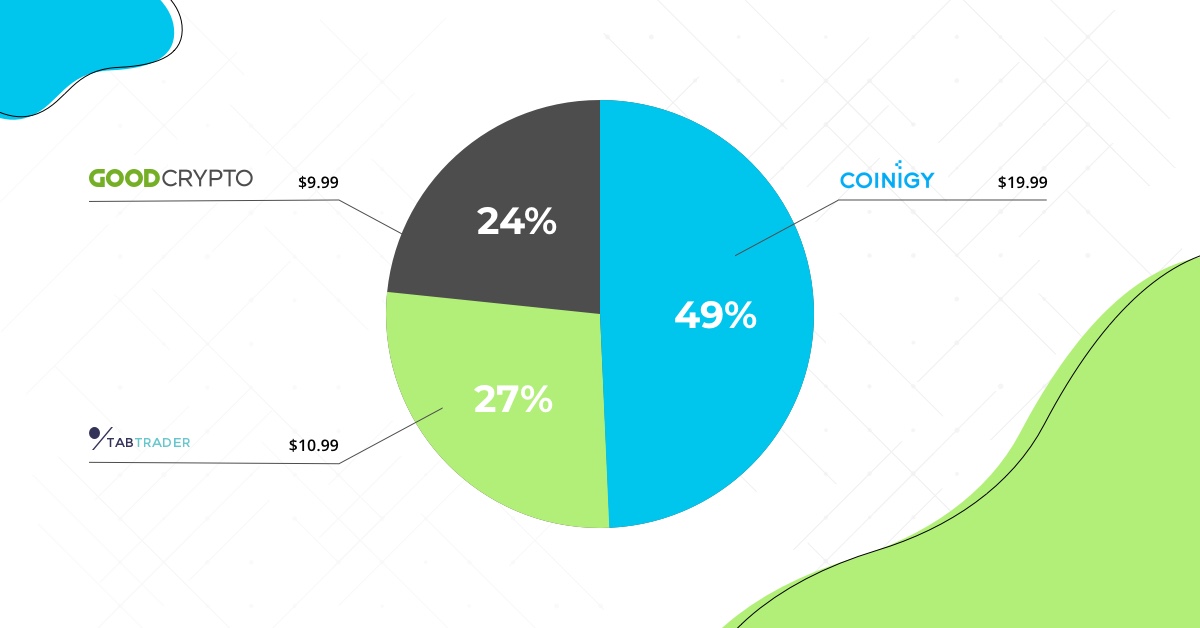 Monthly balance of prices across different apps: Good Crypto, Coinigy, TabTrader
Does Coinigy with its $19.99 per month give you a slightly-expensive-kind-of-thing vibe? Maybe you're not wrong.   
Is Coinigy user-friendly? 
When the web version of Coinigy saw the light in 2015, their setup was revolutionary. They allowed you to trade and track all of your exchanges and wallets in addition to some arbitrage trading tools – all in one place. 
With their server-side backend and advanced tools for arbitrage trading, everybody was only expecting the team to keep on going with further technical development. 
A few years later, the team created mobile versions of the product for iOS and Android, but the web version still looks pretty much as in 2017.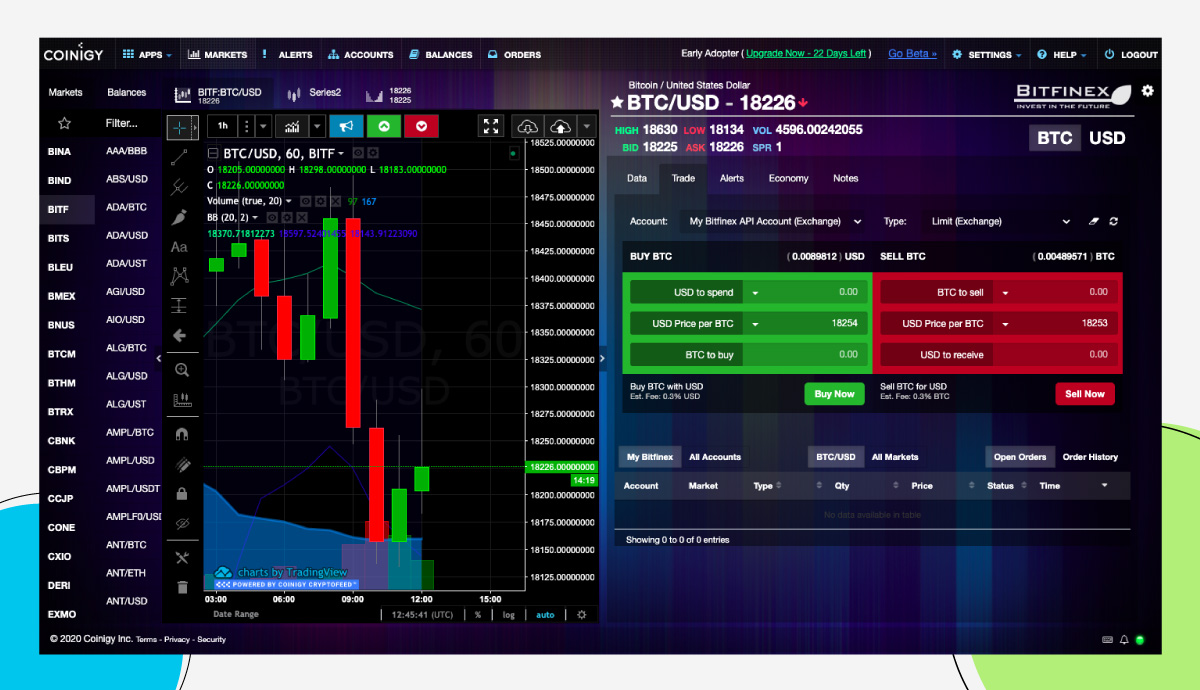 Coinigy's web interface in 2020
Well, maybe we have some advancements in the mobile app area? The mobile app strikes you as being a multi-layered pack of their well-known web version.
Sometimes it's hard to open since they freeze your account for 15 minutes when you enter a wrong password after registration for the first time. Not all buttons work every so often, sensitivity and responsiveness remain wanting. Plus, it's hard to work the charts with all of their TradingView magic simply because it's a mobile phone.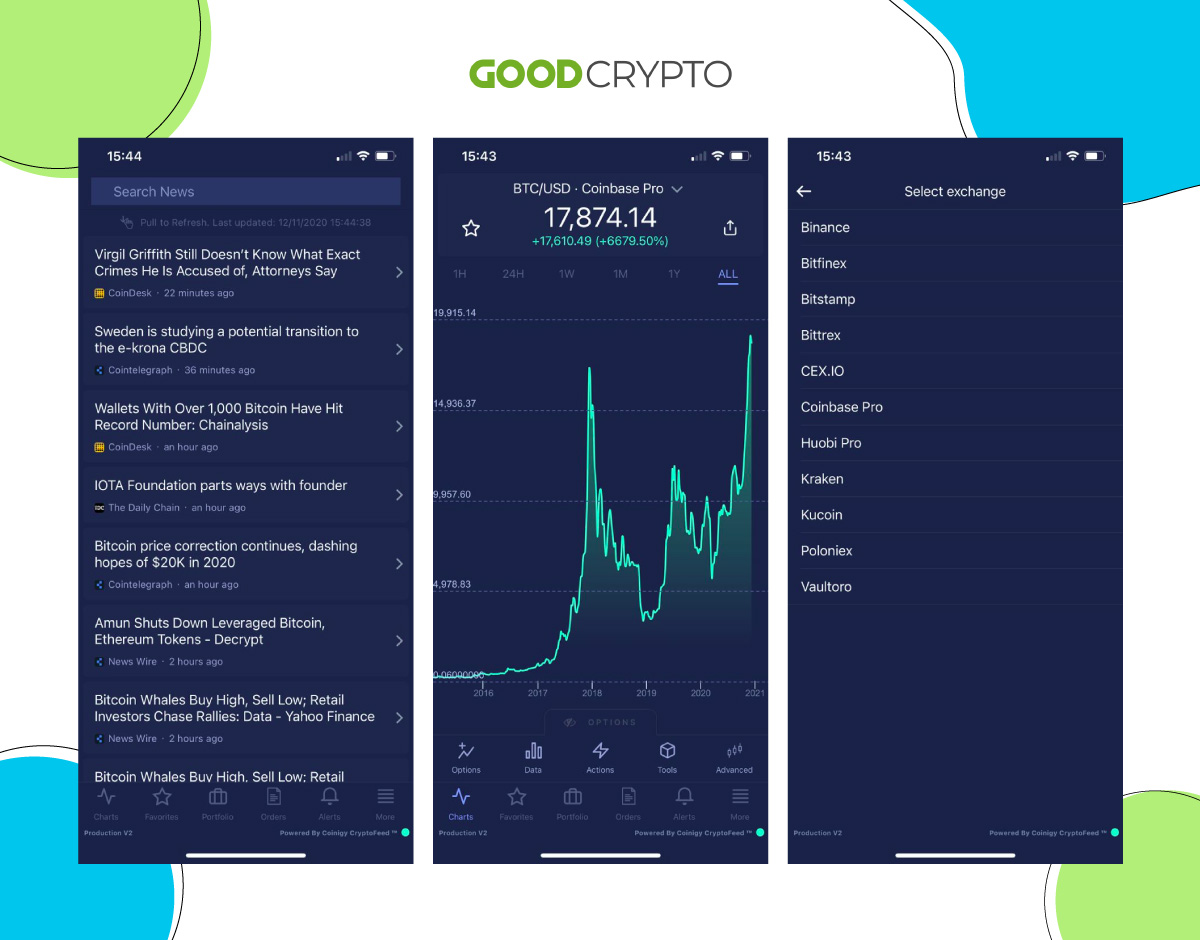 Coinigy's main screen, exchanges to trade on, and a news feed in the mobile app
However, when Coinigy's users get familiar with the interface, it turns out that it's pretty easy to place an order on your favorite exchange via the web version and rather convenient to track your crypto portfolio on your mobile phone. 
Is Coinigy safe? 
According to the app's website, there is a whole set of security measures incorporated on Coinigy. 
The service has got a 2FA feature and supports passwords up to 40 characters, Face ID option exists, but the Coinigy account is always logged in, and Face ID is not checked every time you open the app, so biometric security does not seem to be particularly useful. 
In addition to these precautions, the service doesn't hold or store clients' funds, and the user data is encrypted with AES 256-bit encryption. Every request on Coinigy goes through a verified and secure SSL and is checked on the front-end and back-end for XSS, CSRF, Clickjacking and Session Impersonation attacks.
Given the above and the fact that there were no hacks (that we know about) on the platform in all its years of operation – the Coinigy platform seems to be quite safe.
Coinigy Pros and Cons
In general, Coinigy is a well-established crypto trading app that gained popularity before the hype of 2017. The core pros include portfolio tracking, extensive charting, and 11 popular exchanges you can trade on top of. The flaws being often reported touch sensitivity issues on mobile, a limited number of custom orders, misfiring alerts and lack of trade automation.  
Pros
Portfolio tracking on 43 exchanges and almost 100 blockchains

5000 coins

TradingView charting functionality

Margin trading on Poloniex and Bitfinex

Synthetic stop limit orders on all exchanges

Coinigy customer service is fast to respond

Order size can be set in base or quoted currency

Vibrant community on Twitter
Cons
Trading functionality only in the web version and Android

Trading on 11 top exchanges only

Quite expensive subscription plans 

No automated trading

No information on how your assets have grown in a particular period. And sometimes after canceled orders, an available balance does not update

No connected orders or, in other words, Coinigy customers can't use automation

No futures trading (although the feature is coming)

Seldom updated functionality

Touch sensitivity issues on mobile

Dead Telegram community
Good Crypto VS Coinigy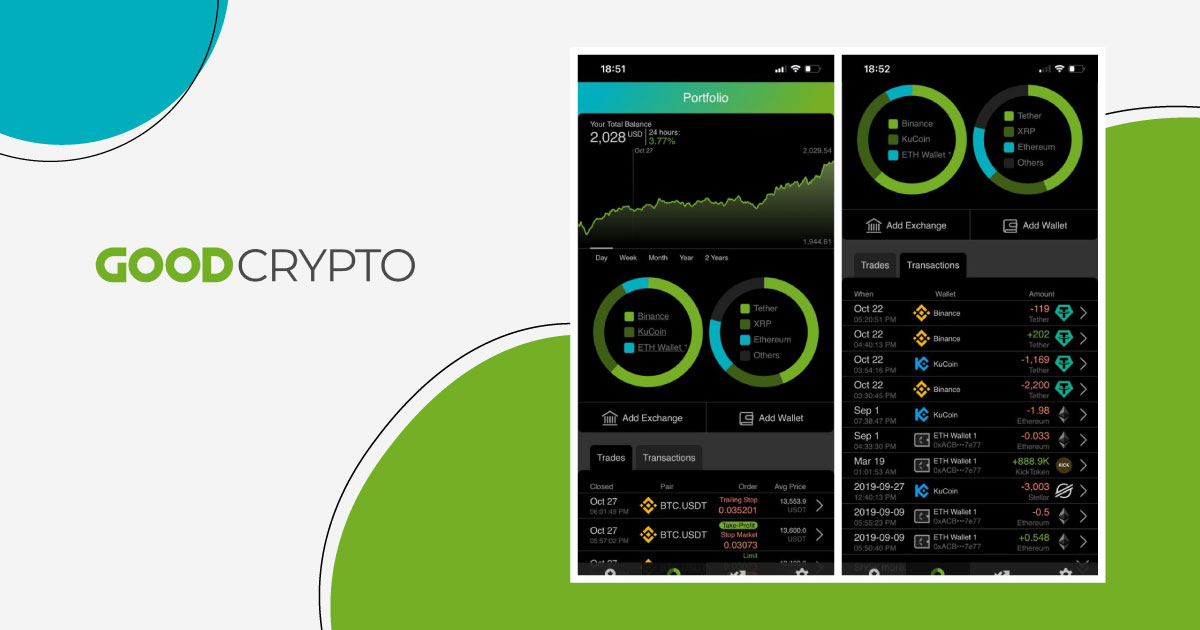 Good Crypto provides an overview of all the accounts and wallets connected. In-depth trading history and transactions are also provided, giving a full picture
Being active crypto traders ourselves, we at Good Crypto were enthusiastic about Coinigy and the potential it promised when it appeared. 
But years went by, nothing was changing, and we've ultimately decided to create our own trading app with the features we were looking forward to having.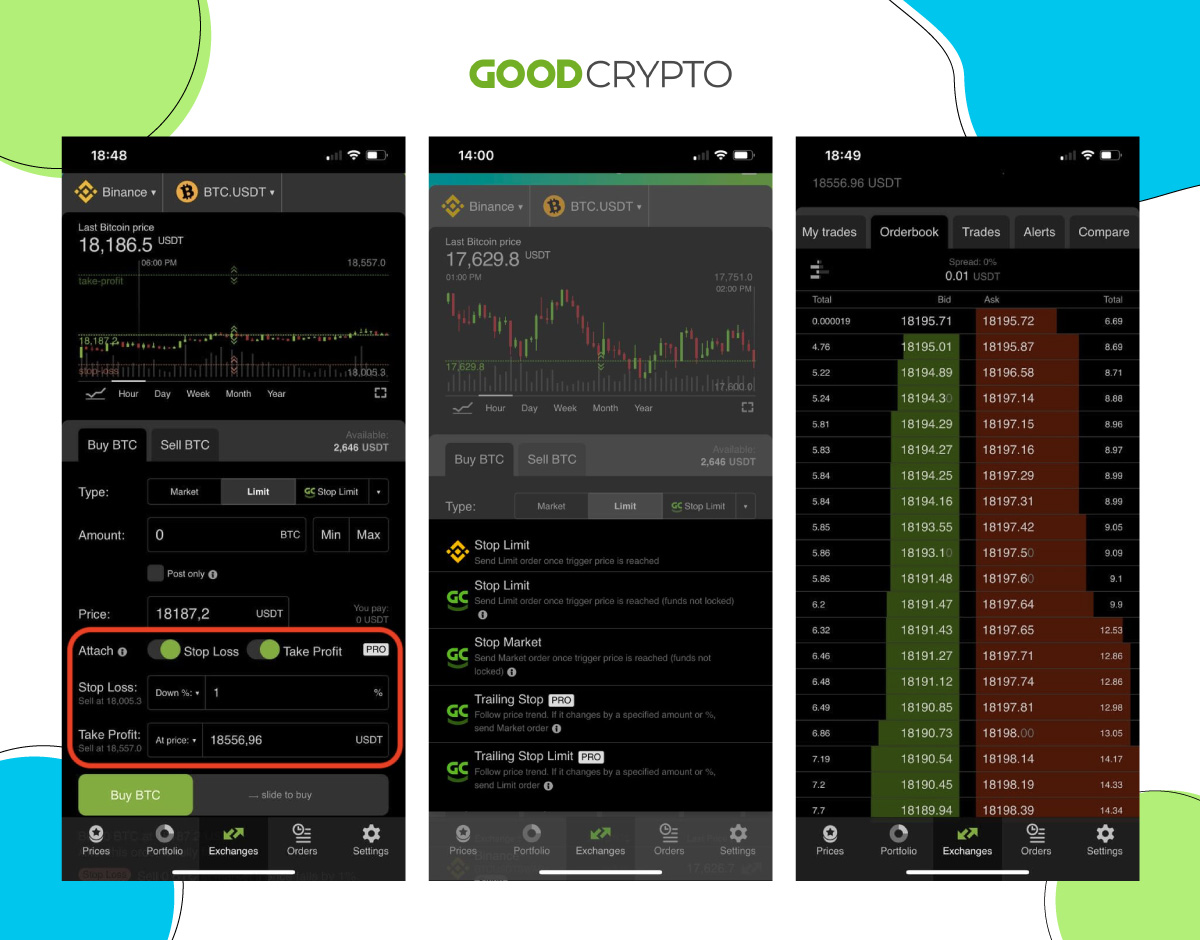 Order types; order connection; and order book tracking in Good Crypto. 
For example, connected take-profit and stop-loss orders in Good Crypto help manage risks and ensure the profitability of your position wherever you're. You just need to set up a position and Good Crypto will do the rest. Here is the precise comparison of both products' features:

Feature
Mobile-first intuitive interface 
☓
✓
Supported exchanges to trade on
11
30
Trailing stop orders
☓
✓
Ability to connect concurrent automated take-profit and stop-loss orders to any order you send to any exchange
☓
✓
Balance and order history import after an API key is added 
☓
✓
Alerts

Price alerts

Order execution, price, and portfolio alerts 
Trading on several exchanges
✓
✓
Portfolio tracking for several exchanges and wallets
✓
✓
TradingView charting
✓

Coming

In progress

☓

☓

Trade automation

In progress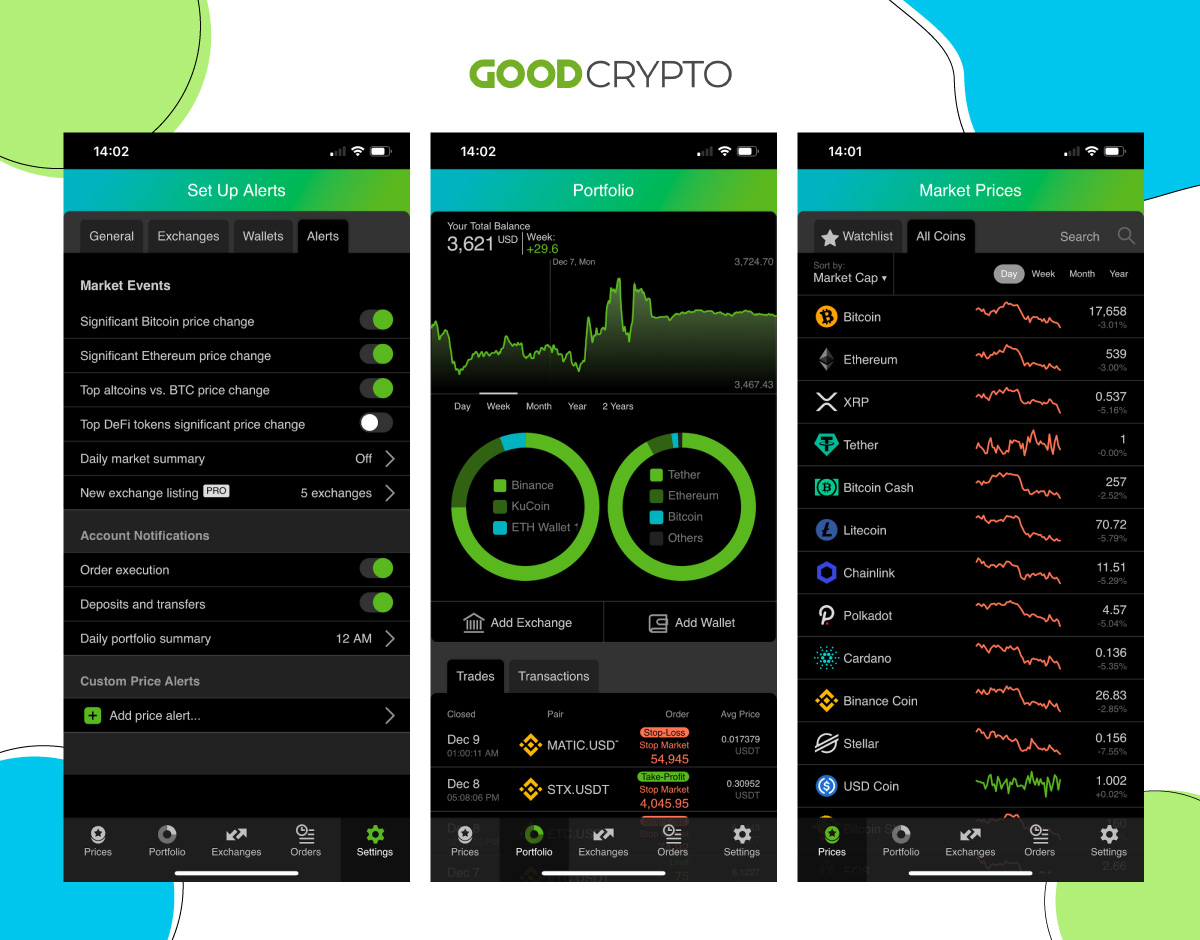 The functionality of Good Crypto includes but is not limited to market prices, alerts, portfolio tracking
That being said, you can see that we still work on additional features, because isn't there always a lot of room for improvement? However, Good Crypto considered all the pros and cons of their competitors and addressed the pain of traders who were waiting for some advancement in the niche. 
Conclusion
As you see from this Coinigy review, when the app became popular in 2015, it was an inspiration for traders who were trying not to get lost in the ocean of manifold crypto accounts. Indeed, it was hard to believe that there could be a sort of a killer app to combine trading functionality, portfolio tracking, and advanced orders across various exchanges.
These days they still offer portfolio tracking on 43 exchanges, cover 5000 coins, have TradingView charting functionality, provide margin trading on Poloniex and Bitfinex as well as limit and stop-limit order types.
But what seemed advanced a few years ago, doesn't look so in 2020 when multiple worthy competitors are emerging. 
Coinigy doesn't put forward a simple UI, doesn't have full trading functionality on all mobile phones, doesn't send notifications about orders being executed. It doesn't extend beyond stop and stop-limit order types and hasn't added futures trading yet – no wonder in response to such a situation, other apps started to pop up to address the existing issues. 
However, the team behind the Coinigy project proved to be innovative before – it's very likely they can show class again if they choose to.